Goldenwind Golden Retrievers
 Alan & Ellen Meyer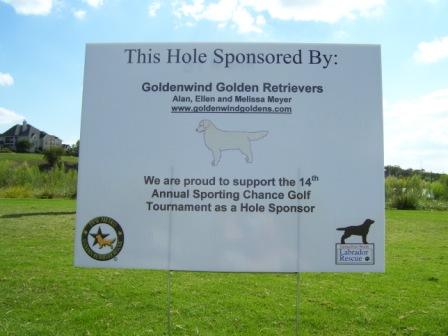 Goldenwind Goldens Retrievers – Sponsors of Golden Retriever Rescue
Our Credentials & Affiliations Past & Present:
American Kennel Club Breeders Of Merit (Golden Retrievers and Brittanys)
Golden Retriever Club Of American (GRCA)
Dallas-Ft. Worth Metro Golden Retriever Club
ArkLaTex Golden Retriever Club – 'Founding Members'
Texas Golden Retriever Breeders Public Education Network
Dallas/Fort Worth Golden Retriever Rescue (DFWGRR)
Dallas/Fort Worth Golden Retriever Rescue Medical Coordinator
Experience as Board Members and Volunteers:
Alan served on the DFWMGRC Board Of Directors as Vice President and Board Member At Large.   In addition, he served as their Specialty Show Chairman, Chief Ring Steward, and "Bench Committee Chair"    He has been a member and active volunteer of DFWGRR.  To his credit, Alan dressed up as Santa for the annual Santa Paws Fundraisers.  Most noteworthy, Alan wrote the DFWMGRC Member Column for the Golden Retriever News which is the official publication of the Golden Retriever Club Of America.  
Ellen served on the DFWMGRC Puppy Referral Committee as "Chairman" and a Puppy Referral Volunteer. In addition, she had been an active member and volunteer of the Dallas/Fort Worth Golden Retriever Rescue. Most noteworthy, Ellen has an extensive knowledge of health issues in the Golden Retriever and was invited to be the DFWGRR Medical Coordinator in 2009.  Another achievement, she also served on the DFWGRR Board and had been active in fundraising for Rescue.    In conclusion, Ellen was responsible for marketing and selling the Golden Retriever Rescue tee shirts. The "Adopt A Rescue Golden" was a fund raiser for Golden Retriever Rescue for many years.
Where It Began:
Goldenwind Golden Retrievers consist of Ellen, Alan & Melissa Meyer.  Many years ago in 1994, we purchased our first Golden Retriever puppy from a show breeder in Austin.  Even though this referral came through the local Golden Retriever club, the sire of our puppy was under age and did not have a final OFA hip clearance  Unfortunately, our puppy was subsequently diagnosed with mild hip dysplasia.  Sadly, at that time, we were offered no education with regards to health clearances. Above all, this is why public education on Golden Retriever health is so important to us.  Thankfully, we were then referred to David and Barbara Brown of Tempo Golden Retrievers to get a more competitive bitch puppy and were offered an invitation to join the DFWMGRC, Dallas-Ft. Worth Metro Golden Retriever Club and remained active members of that club for twelve years, 1995-2007.  
Melissa:
In 2001, Melissa was one of the top Golden Retriever Junior Handlers as well as one of the top Brittany Junior Handlers in the United States.  Additionally, Melissa was at that time period, the youngest Junior Handler to quality and compete at the prestigious Westminster Kennel Club in New York City.   Later on, Melissa also handled dogs professionally and we are so proud of her.  She has been awarded Major wins in the Golden show ring with her client dogs including Winner's Dog at the very competitive Greater Houston Golden Retriever Club Specialty.  Melissa also has 'finished' many of her own bred-by Brittanys over the years as well as other various breeds of dogs.  Please visit Melissa's page  Melissa
Goldenwind Goldens "Established 1995":
Our 'kennel name', Goldenwind Golden Retrievers, came from Ellen's love, fascination, and respect of severe storms and weather.  If you will, picture a Golden Retriever running in the wind.  In fact, Ellen has 'chased' with Tim Marshall, Carson Eads, Gene Rhoden, and other high profile Storm Chasers.   Ellen was a member of the Texas Severe Storms Association (TESSA) in the 1990's and she held the position of Tessa's Public Education Coordinator.  In 1997 at our first litter's puppy evaluation party, a severe storm blew through Plano complete with thunder, lightning, high winds and hail.  Furthermore, after the storm was over, the puppies went outside and started retrieving baby birds that had been blown out of their nest in one of our trees!  That was Keesha's first litter and as a result, Goldenwind Golden Retrievers became established.
CH Tempo's Joy To The World "Keesha":
"Keesha", CH Tempo's Joy To The World, became our foundation for Goldenwind Golden Retrievers in 1995.  We attended our first Golden Retriever Club of America (GRCA) National Specialty Show in 1995 with Keesha where she won both the Puppy Bitch 6-9 Sweepstakes Class   In addition to that, she then went on to also win the Puppy Bitch 6-9 Regular Class.   A few days later, Keesha then went behind her dam, BISS CH Rockhill Robin's Upbeat Tempo SDHF OD (Robin) who won the Brood Bitch Class.   In a like manner, In 1996, at the GRCA National Specialty Show, Keesha earned the honor of Reserve Winner's Bitch. 
At the GRCA 2001 National Specialty Show, at the young age of 14, our daughter Melissa won the GRCA National Specialty Best Junior Handler out of the Open Junior Class with Keesha.
CH Summit Goldenwind High Caliber SDHF "Bullet"
In 1997, we had purchased our second show puppy from Beth Johnson of Summit Golden Retrievers in Wisconsin, "Bullet", CH Summit Goldenwind High Caliber, SHDF.   Bullet achieved his AKC Championship at the Golden Retriever Specialty Show in Arizona.  He was Winner's Dog as well as Best Of Winners.   Subsequently, he became our first Golden Retriever to earn the prestigious title of SDHF (Show Dog Hall Of Fame).  In conclusion, Bullet was purchased to contribute to the quality of Golden Retrievers.  As a result, we have been very successful with the incorporation of Bullet into our breeding program at Goldenwind Golden Retrievers.
Our Subsequent Breeding Program:
We bred our first litter in 1997 breeding "Keesha" to Beth Johnson's stud dog CH Summit's Crocodile Rock (Burbank).   As a result, we produced two Champions from that litter:
Am/Can CH Goldenwind Out Of This World RN (Leo) Leo's Pedigree
Am/Can CH Goldenwind World Series OD (Best In Specialty Show winner, GRCA Outstanding Dam; Shea) Shea's Pedigree
Over the years, through our stud dog and bitches we have gone on to title/produce AKC titled dogs in Conformation, Obedience, Field, Agilty and Rally and Golden Retriever Club Of America (GRCA) titles such as SDHF (Show Dog Hall Of Fame), OD (Outstanding Dam), and WC ('Working Certificate).  Lastly, we also have produced dogs titled with TDI (Therapy Dog International) and CGC (Canine Good Citizen).  
A dog of our breeding was awarded the prestigious AKC Obedience title of Utility Dog Excellent (UDX), Goldenwind One Life To Live "Noah"  Noah's Pedigree
Fellow Breeders We Have Partnered With:
Through the years we have gone 'outside' our own breeding programs to bring in some of the finest pedigrees in Golden Retrievers…
Summit Golden Retrievers
Crescent Golden Retrievers
Gracious Glds Golden Retrievers
Ducat Golden Retrievers
Avalor Golden Retrievers
Cobblestone Golden Retrievers
Mattiaci Golden Retrievers
Dogwood Springs Golden Retrievers
Millennium Golden Retrievers
————————————————————————-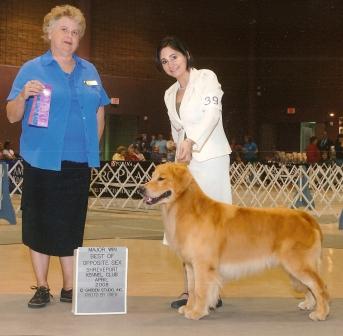 AM/CAN CH. GLDN GLOWS SUNNY SERENADE (AKC CH major pointed)  handled by Melissa Meyer – Goldenwind Golden Retrievers
Contact:
Goldenwind  Goldens   Ellen & Alan Meyer   goldenwindgoldens@gmail.com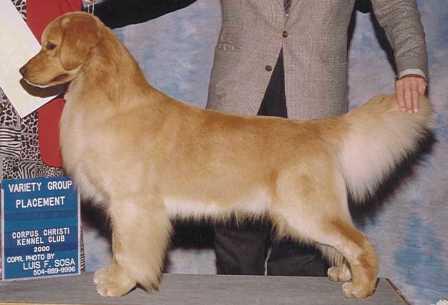 CH Summit Goldenwind High Caliber SDHF
---
Copyright © 2022 Goldenwind Golden Retrievers, reproduction prohibited.