Goldenwind Golden Retrievers
Ellen, Alan & Melissa Meyer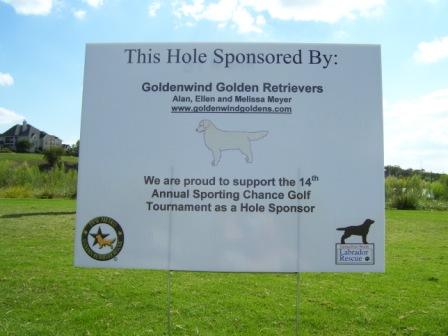 Goldenwind Goldens Retrievers – sponsors of Rescue
Goldenwind Golden Retrievers consist of Ellen, Alan & Melissa Meyer and exhibiting and breeding Golden Retrievers is our family's hobby.   It was important to us to find a hobby that would include our children.  We purchased our first Golden Retriever puppy in 1994 from a show breeder in Austin who was referred to us by the Dallas-Ft. Worth Metro Golden Retriever Club (DFWMGRC) when we called the Club's Public Education and Puppy Referral hotline.  This breeder was a personal friend of the referral volunteer.  Imagine our surprise that even though this referral came through the local Golden Retriever club that the sire of our puppy was under age and did not have a final OFA hip clearance nor was he able to obtain one later!!!  We were offered no education on health clearances back then and simply did not know enough to ask when we started looking for a Golden Retriever puppy.   When we did a preliminary hip x-ray on our puppy at about 10 months old, our vet advised us that it was apparent that she was mildly dysplastic.  Before we did Candi's hip prelim and had not yet known about the hip clearance issue with her sire, we were referred to David and Barbara Brown of Tempo Golden Retrievers to get a more competitive bitch puppy and were offered an invitation to join the DFWMGRC, Dallas-Ft. Worth Metro Golden Retriever Club and remained active members of that club for twelve years, 1995-2007.    
Our 'kennel name', Goldenwind Golden Retrievers, came from Ellen's love, fascination, and respect of severe storms and weather.  Picture a Golden Retriever running in the wind.  Ellen has 'chased' with Tim Marshall, Carson Eads, Gene Rhoden, and other high profile Storm Chasers.  While Ellen was a member of the Texas Severe Storms Association (TESSA) in the 1990's, she held the position of Tessa's Public Education Coordinator and was invited to many of the Elementary and Middle Schools in the Plano School District giving lectures on Severe Storm Education and Safety.  When we had our first litter in 1997 and our puppy evaluation party, it was fitting that a severe storm blew through Plano complete with thunder, lightning, high winds and hail.  After the storm was over, the puppies went outside and started retrieving baby birds that had been blown out of their nest in one of our trees!  That was Keesha's first litter and Goldenwind Golden Retrievers became established.
"Keesha", CH Tempo's Joy To The World, became our foundation for Goldenwind Golden Retrievers in 1995.  We attended our first Golden Retriever Club of America (GRCA) National Specialty Show in 1995 with Keesha where she won both the Puppy Bitch 6-9 Sweepstakes Class and then went on to also win the Puppy Bitch 6-9 Regular Class.   Keesha then went behind her dam, BISS CH Rockhill Robin's Upbeat Tempo SDHF OD (Robin) who then won the Brood Bitch Class.   In 1996 we took Keesha again to the GRCA National Specialty Show and she was awarded the honor of Reserve Winner's Bitch. 
At the GRCA 2001 National Specialty Show,  Keesha was on the other end of the lead when our daughter Melissa Meyer, at the young age of 14, was awarded the GRCA National Specialty Best Junior Handler out of the Open Junior Class.
In 1997, we had purchased our second show puppy from Beth Johnson of Summit Golden Retrievers in Wisconsin, "Bullet", CH Summit Goldenwind High Caliber, SHDF.  He finished his AKC Championship at the tender age of 19 months old by being awarded Winner's Dog, Best Of Winners at the Golden Retriever Specialty in Arizona and Bullet then became our first Golden Retriever to earn the prestigious title of SDHF (Show Dog Hall Of Fame).  Bullet was specifically purchased to contribute further to the quality of Golden Retrievers.  We have been very successful through the incorporation of Bullet into our breeding program at Goldenwind Golden Retrievers.
We bred our first litter in 1997 breeding "Keesha" to Beth Johnson's stud dog CH Summit's Crocodile Rock (Burbank) and from that litter we produced two Champions:
Am/Can CH Goldenwind Out Of This World RN (Leo) Leo's Pedigree
Am/Can CH Goldenwind World Series OD (Best In Specialty Show winner, GRCA Outstanding Dam; Shea) Shea's Pedigree
 Since then, through our stud dog and bitches we have gone on to title/produce AKC titled dogs in Conformation, Obedience, Field, Agilty and Rally and Golden Retriever Club Of America (GRCA) titles such as SDHF (Show Dog Hall Of Fame), OD (Outstanding Dam), and WC ('Working Certificate).  In addition to that, we also have produced dogs titled with TDI (Therapy Dog International) and CGC (Canine Good Citizen).  
A dog of our breeding was awarded the prestigious AKC Obedience title of Utility Dog Excellent (UDX), Goldenwind One Life To Live "Noah"  Noah's Pedigree
Through the years we have gone 'outside' our own breeding programs to bring in some of the finest pedigrees in Golden Retrievers: 
Again, we thank Beth Johnson of Summit Golden Retrievers of Wisconsin for her help and encouragement over the years and also thank her for recommending our acquisition of "Pebbles" as a 3 month old puppy, Gracious Glds Love On The Rocks.  "Pebbles" was bred by Sue and Steve Lusa from Washington on the West Coast. Pebbles went on to produce our home bred boy CH Goldenwind Rockets Red Glare "Rocket" Click here for: Pebbles – Pedigree
We also thank Yvonne Sargent of Crescent Golden Retrievers for our boy "Gizmo" who goes back to Yvonne's foundation bitch CH Goldenwind Hailstorm whom we bred and sold to her in 1998. 
We most recently thank Florence Josephs for our latest acquisition "True", CH Mattiaci Truth Be Gold, a beautiful boy who we plan on incorporating into our breeding program.
Our daughter Melissa has handled dogs professionally and we are so proud of her.  She has been awarded Major wins in the Golden show ring with her client dogs including Winner's Dog at the very competitive Greater Houston Golden Retriever Club Specialty.  Melissa also has 'finished' many of her own bred-by Brittanys over the years.  Please visit Melissa's page  Melissa
————————————————————————-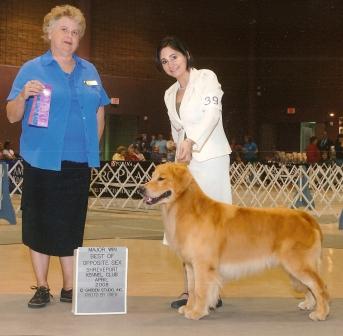 AM/CAN CH. GLDN GLOWS SUNNY SERENADE (AKC CH major pointed)  handled by Melissa Meyer – Goldenwind Golden Retrievers
Contact:
Goldenwind  Goldens   Ellen & Alan Meyer   goldenwindgoldens@gmail.com 972-442-9723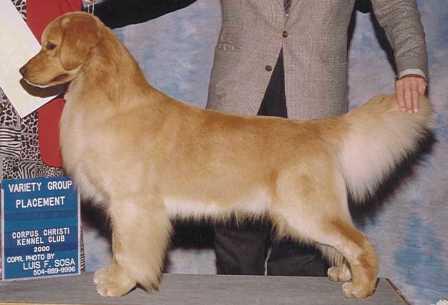 CH Summit Goldenwind High Caliber SDHF
---
Copyright © 2017 Goldenwind Golden Retrievers. Reproduction in whole or part in any form or medium without express written permission of Goldenwind Golden Retrievers is strictly prohibited.