G_4906Golden Retriever Puppies Texas
   

Golden Retriever
Puppies
****************************
Fall 2023 Breedings Planned
**Please continue reading through this page for more information and on how we choose our puppy families and what our process is**
****************************
Once we post a Breeding, if you may be interested in a puppy from one of our litters, please send us an email and introduce yourselves.   In the subject line put your name, location and preference for a male or a female
For example… John Doe – Plano – Male puppy inquiry
 If you have already sent us an inquiry, please be patient with us.  We are navigating through the many inquiries we receive daily
**Please continue reading through this page for more information and on how we choose our puppy families and what our process is**
***********************************
***Puppies are $3500 plus Texas sales tax***
****************************
For more information contact us at:
E-mail:
****************************
Golden Retriever Puppies come with AKC Limited Registration and Spay/Neuter Contracts
We do not ship Golden Retriever Puppies
No exceptions!
 ALL GOLDEN RETRIEVER PUPPY PLACEMENTS ARE AT THE DISCRETION OF GOLDENWIND GOLDEN RETRIEVERS
Golden Retriever Puppies Reservation Process
Our Golden Retriever puppies are sold with spay/neuter contracts and AKC Limited Registration.  Our Golden Retriever puppies are required to be registered with the American Kennel Club (AKC).  They are not permitted to be registered with any other registry.  However, our Golden Retriever puppies are eligible to complete for titles in Obedience, Agility, Hunt Tests, Field Trials and Rally.  In addition, they can get a Canine Good Citizenship certificate.  Furthermore, they can be certified as a Therapy dog if they qualify.  For example, Therapy Dog International status.  Golden Retrievers puppies can make wonderful Therapy Dogs or Search And Rescue Dogs if properly trained and qualified.
Golden Retriever Puppies 'Application' Process'
Initially, we ask you where you are located and if you want a male or a female Golden Retriever puppy.  Please note that we do not sell puppies outside of a five hour drive from Dallas nor do we ship our puppies.  When interested, we send you an essay question as we do not do formal questionnaires.  Please give us as much detail as possible in your response to the essay.  We need detail in order to make our decisions on which families to choose to receive an invitation for a puppy reservation and deposit.  Consequently, first impressions are very important.   We will be considering you as a potential 'fit' for one of our puppies.   With an acceptance to our invitation, you are making a life long committment to your new family member.
How To Get An Invitation For a Golden Retriever Puppy Reservation
Please note, we do not take names on a waiting list.  We please ask that you to check our website for updates during the pregnancies, whelping, and raising of the puppies.  The families we consider to invite for a puppy reservation are in no order but who we think will be the best homes for our Golden Retriever puppies.   Our decisions are based on all correspondence we have had with each family.  Once a litter has arrived we will know exactly how many puppies we have and the gender break down.  We then review our prospective family's essays once again to make our choices on which families to send an invitation.  We may have further questions for you at that time as we are typically fortunate to have more inquries than puppies potentially available.  Deposits are non-refundable.
***Until Further Notice, Due To Covid -19,  All "Meet & Greets" Will Be Done Telephonically***
***Please note… due to Covid-19 we will NOT be doing our "Meet & Greets" in person as described in our process below.   All correspondence will be via email and telephonically.   Puppy families with reservations/deposits paid will get weekly pictures and/or video of the puppies from birth to just before their "Go Home" date***
The "Meet & Greet"
First and foremost, the "Meet & Greet" is mandatory as a visit with us when the puppies are 6 weeks old.  Specifically, it is only for those families with invitations from whom we received their deposit.  Above all, this procedure ensures our puppy's safety from any outside virus', bacteria and/or other communicable diseases.  Immunity to any disease such as parvo/distemper is totally dependent on the colostrum received at birth from their dam.
 Therefore, we have very strict 'rules of the visit' when having people out for our "Meet & Greet" and also for "Go Home" weekend.  Only immediate members of the family residing in the home attend.
During the Meet & Greet please have any questions you may have ready to share them with us. It is a breeder's responsibility to properly educate potential puppy buyers and answer their questions.  Please remember, there are no questions that you can ask which we shouldn't be able to answer.
How We Choose Your Puppy
Please fall in love with *all* the puppies in the gender your reservation is for as we will not be deciding placements until just before "Go Home" day.  The reason *we* pick your puppy is that we are with the puppies close to 24/7 from the moment they are whelped.  We know each puppy both individually and in a group setting.    Our decisions are made based on each families internal dynamics and schedules.   For example, a puppy who clearly wants more attention than another would be placed where someone is home the majority of the day.   A puppy who clearly can amuse itself would be one who could go to a family where no one is home for hours at a time.   Those are just examples of how we may make our placements.
Golden Retriever Puppies Should Be Raised In A Home
Our Golden Retriever puppies are raised in our bedroom/family/living room areas in our home.  In the beginning, the first 4 weeks they are in a Jonart Whelping Box with an attached open pen so Mom can get in and out and the puppies are safe in their area.   Subsequently, at 4 weeks, we move the puppies to our formal living room.  Their playpen is an approximately 8′ x 8′ playpen where the puppies can see and hear everything around them.  That location offers our Golden Retriever puppies optimum opportunities for socialization which is a necessity for puppies at this stage of their life.   Finally, our Golden Retriever puppies are ready for their new homes at approximately 7 1/2 -8 weeks.  As a result, the puppies are exposed to most household noises that await them with their new family.
Our Golden Retriever Puppies Health Clearances
Goldenwind Golden Retrievers have the health reports suggested by the Golden Retriever Club Of America Code Of Ethics.  Be sure to ask a Golden Retriever breeder for 'health clearances' on both the sire and the dam of the litter.  These reports need to include an OFA Hip rating of 'Fair', 'Good', or 'Excellent' and an OFA Elbow rating of 'Normal'   The eye report needs to be from a Board Certified Canine Opthalmologist either indicating 'normal' in both eyes or with a notation of  'breeder option'.  In addition, a Heart Clearance from a Board Certified Canine Cardiologist indicated 'normal' is necessary.
For more information on Golden Retriever Health Clearances please visit our "Health" page.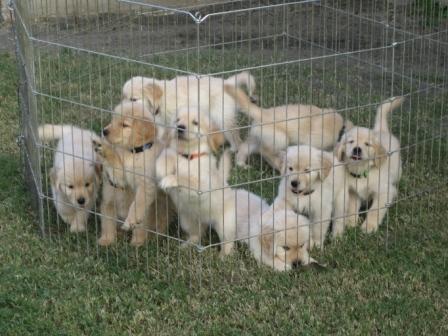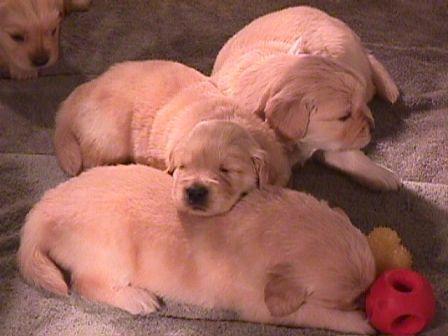 Copyright © 2021 Goldenwind Golden Retrievers. Reproduction in whole or part in any form or medium without express written permission of Goldenwind Golden Retrievers is strictly prohibited.