Dallas Texas Golden Retriever Breeders Puppies Available in Dallas Fort Worth  Austin San Antonio  Houston 
*****************************
 Goldenwind
 Golden Retrievers
*****************************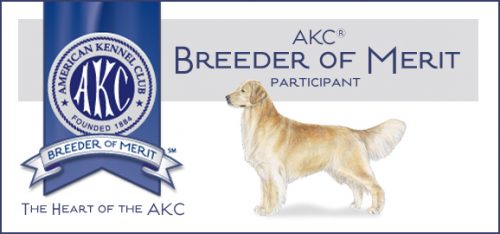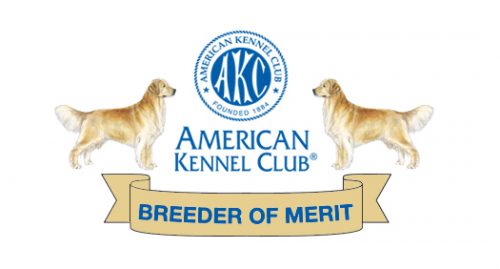 Located just outside of Dallas/Plano Texas on 2.2 acres
Approximately 3 hrs from Austin, 4 hrs from Houston, 5 hrs from San Antonio Texas
Please click on our name, like, and follow us on Facebook…
Goldenwind Golden Retrievers

******************
PUPPIES HAVE ARRIVED !!!
****************** 
For information on puppies and upcoming Golden Retriever litters please go to our "Puppies Page"
*************************************
Goldenwind Golden Retriever puppies are raised in our private home in our bedroom/family/living room areas.  Ellen is home full time where she spends most of her day with them from the moment they arrive until they day they go to their new homes.  Most importantly, our puppies are center stage in the middle of family life here at Goldenwind.  This offers our Golden Retriever puppies optimum opportunities for both human and littermate socialization which is a necessity at this stage of their  lives.
Once we start the weaning process, the puppies are moved to a large playpen (approximately 8′ x 8′) in our living room.  This is where they are afforded the ability to hear and see everything around them.   This includes loud televisions, stereo music, vacuums, doorbells, telephones ringing, doors opening and closing, thunder and rain sounds, kitchen pots and pans clanging, etc.  When our Golden Retriever puppies are ready for their new homes at approximatley 8 weeks of age, they have been exposed to most household situations and noises that they will have with their new familes.  
************************************
We are proud to be the home of
CH Goldenwind Rockets Red Glare "Rocket"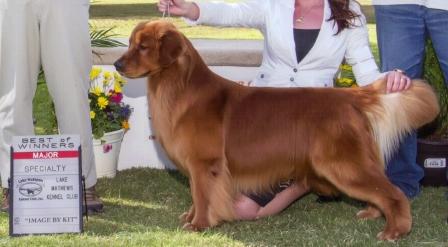 Our Credentials & Affiliations:
American Kennel Club Breeders Of Merit (Golden Retrievers and Brittanys)
Golden Retriever Club Of American (GRCA)
Dallas-Ft. Worth Metro Golden Retriever Club
ArkLaTex Golden Retriever Club – 'Founding Members'
Texas Golden Retriever Breeders Public Education Network
Dallas/Fort Worth Golden Retriever Rescue (DFWGRR)
Dallas/Fort Worth Golden Retriever Rescue Medical Coordinator
Experience as Board Members and Volunteers:
Alan served on the DFWMGRC Board Of Directors in the positions of Vice President and Board Member At Large.  In addition, he had served as their Specialty Show Chairman, Chief Ring Steward, and "Bench Committee Chair".  He has also been a member and active volunteer of DFWGRR.   To his credit, Alan even dressed up as Santa to pose with the dogs for the annual Santa Paws fundraisers.  Most noteworthy, Alan wrote the DFWMGRC Member Column for the Golden Retriever News.  The Golden Retriever News is the official publication of the Golden Retriever Club Of America.
Ellen served on the DFWMGRC Puppy Referral Committee as both "Chair" and as a Puppy Referral Volunteer. In addition, she had been an active member and volunteer of the Dallas/Fort Worth Golden Retriever Rescue.  Ellen has an extensive knowledge of health issues in the Golden Retriever.  For that reason, Ellen was invited to be the DFWGRR Medical Coordinator in 2009.  She also served on the DFWGRR Board and had been active in fundraising for Rescue.  In fact, Ellen personally helped to raise over $1000 in sponsorships and silent auction merchandise for the Annual Sporting Chance Golf Tournament of which proceeds benefited DFWGRR.  Additionally, Ellen was responsible for marketing and selling the Golden Retriever Rescue tee shirts, "Adopt A Rescue Golden" which was a fund raiser for Golden Retriever Rescue for many years.
Reputable Texas Golden Retriever Breeders get 'Health Clearances'
The Golden Retriever Club Of America requires that any member of the GRCA use the GRCA Code Of Ethics as a guideline for breeding.  Therefore, Reputable Texas Golden Retriever breeders should have testing done for hips, elbows, heart and eye disease and submitted those results to the OFA.  Those would include hip/elbow dysplasia, heart disease such as subvalvular aoertic stenosis (SAS) and inherited eye disorders.  Hip and Elbow radiographs must be evaluated by a panel of 3 Board Certified Orthopedists chosen by the Orthopedic Foundation For Animals (OFA).  Eye exams must be done by a Board Certified Canine Ophthalmologist.   Heart exams must be done by a Board Certified Canine Cardiologist.
Occasionally, a reputable breeder may breed a dog or a bitch just prior to 24 months and in that case they will have the preliminary reports from the Orthopedic Foundation For Animals (OFA) for hips and elbows.   Most important, when bred after the age of 24 months, there is no excuse not to update the hip and elbows testing to get their permanent certificate for those tests from OFA.  Why would a GRCA member who is a breeder not adhere to the GRCA Code Of Ethics?  The reason could be that perhaps their dog was not able to obtain one or more of the recommended clearances.
Therefore, always ask for copies of the hip, elbow, heart and eye clearances for both the sire and dam of any litter or puppy that is being offered for sale.  Specifically, that information should be available on the Orthopedic Foundation For Animals website (www.offa.org)  A breeder should be able to produce the OFA certificates and/or reports from a board certified radiologist, board certified cardiologist and a board certified ophthalmologist.
For more more information about the Hip, Elbow, Heart and Eye clearances referenced in the GRCA Code Of Ethics please visit our Health page
Reputable Texas Golden Retriever Breeders will also follow the American Kennel Club Code Of Sportsmanship
https://images.akc.org/pdf/AKC_code_of_sportsmanship.pdf