Golden Retriever breeder health is of the utmost importance to us here at Goldenwind Golden Retrievers
Golden Retriever Breeder Health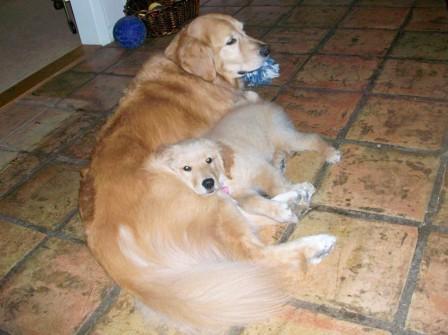 Why do Reputable Golden Retriever Breeders Get 'Clearances'
The Golden Retriever Club Of America (GRCA) requires that any member of the GRCA use the GRCA Code Of Ethics as a guideline for breeding.  A 'reputable' Golden Retriever Breeder should not only use the GRCA Code Of Ethics as a 'guideline' but should 'strictly adhere' to the recommendations of the Golden Retriever Club Of America for breeding.  Why would a 'reputable breeder' *not* strictly adhere?   Perhaps because their dog failed a health clearance!!!
Golden Retriever Health:
Questions To Ask The Breeder About The Litter
Why This Particular Sire and Dam?
The most wonderful thing about breeding in this day and age is that breeders have options that they didn't have years ago. Breeders can do natural breedings, artificial insemination, fresh chilled semen or a 'blast from the past' using frozen semen. It used to be that if you wanted to breed to a dog in a different part of the country, you had to ship your bitch to that stud dog wherever he was located. Typically you will not find the sire of the litter at the breeder's home. Now when we say 'typically', that does not hold true in every circumstance. Sometimes breeders purchase male puppies from outside of their own breeding program in the hopes that he turns out to be what they were looking for and can then use him for that breeding program in the future. Some breeders start out with a male puppy and then purchase a female puppy that they believe will be a good match for that male puppy later on. It is not always a 'red flag' if both sire and dam are on the premises but more often than not it doesn't happen that way.
Some questions to ask the breeder about the litter:
Why did the breeder choose this particular stud dog?
What research tools did the breeder use?
What was the breeder trying to achieve through this breeding?
What are the strengths and weaknesses in both sire and dam?
Did the breeder achieve the goals they were hoping for through this breeding?
What can the breeder tell you about the sire's temperament and longevity history in his background?
What can the breeder tell you about the dam's temperament and longevity history in her background?
Please ask to see a 5 generation pedigree of the litter.  A reputable breeder will be able to give you the K9data link and will have done a 'test breeding' on K9data so you can see the pedigree.  You can then click on "view genetic information" to see how closely related the sire and dam are if at all and the COI result of breeding a specific litter.  A "COI" is the Coefficient Of Inbreeding.   We would not be comfortable with a COI above 22%
Here is an example of a test breeding with a low COI:  http://www.k9data.com/coi.asp?ID=254356
Here is an example of a dog from a litter with a higher COI:  http://www.k9data.com/coi.asp?ID=45150
You can also see the depth of quality by viewing the 5 Generation Pedigree, is this breeder breeding 'pets' or is this pedigree truly a Champion / Performance pedigree as perhaps advertised?
If the Sire or Grandparents of a litter are deceased there is now a field in K9data where the owner of that dog can submit the cause of death to be available to the public.  If that field does not appear for a dog, ask the breeder if any of the dogs in that pedigree are deceased and if they are, why that information is not available to the public.  A reputable breeder would need to know that information in order to have made an educated decision before performing their breeding.
If there is no K9data information available for a Stud Dog (Sire), Brood Bitch (Dam), or an advertised litter, what type of research with regard to the health of an upcoming litter would it appear that breeder has done for their breeding program?
GOLDEN RETRIEVER BREEDER HEALTH CLEARANCES
When looking for a Golden Retriever Breeder, please be sure to ask for 'health clearances' on both the sire and dam of the litter.  These clearances should include but are not limited to an OFA Hip rating of 'Fair', 'Good' or 'Excellent'; an OFA Elbow rating of  'normal' ; a current (within the last 12 months of the breeding) eye report from a Board Certified Canine Ophthalmologist indicating 'normal' in both eyes or with a possible notation of 'other' which will indicate that it is not an inheritable issue or condition; and a heart clearance from a Board Certified Canine Cardiologist indicating 'normal'.  Do not accept any reports that are not on authentic OFA or CERF forms.
How to read an OFA Number:  http://www.offa.org/numberkey.html
Samples of OFA Certificates:
Hips – http://www.offa.org/samplecerts.html#hiprpt
Elbows – http://www.offa.org/samplecerts.html#elrpt
Cardiac – http://www.offa.org/samplecerts.html#cardrpt
Cardiac Application Form:  http://www.offa.org/cardappbw.pdf
When inquiring on a litter and asking about Health Clearances, the GRCA requires that all Heart clearances are performed by a Board Certified Cardiologist.
If you are shown an OFA Heart Certificate  (http://www.offa.org/samplecerts.html#cardrpt) the OFA number must be followed by a "/C"
Example:  OFA GR-CA1949/18F/C
Please visit the GRCA Update on the big four health clearances (Hips, Elbows, Eyes, Heart)    http://www.grca.org/health/bigfour.html
Health Issues in the Golden Retriever
Now that you have found a particular Golden Retriever breeder that you are comfortable with and are seriously thinking about purchasing a puppy from, let's talk about health issues in the Golden Retriever that cannot be screened for through 'clearances'.  Some of The diseases that Golden Retriever breeders are very concerned about do not have screening tests available but reputable breeders are both aware of them and should do the most they can to minimize environmental contributions to those issues.  The environment in which a Golden Retriever is raised and lives within can be a contributing factor to canine cancer and other diseases such as dysplasia and diabetes.
Reputable Golden Retriever breeders should not use herbicides, pesticides, or any chemical means know to cause Cancer in the areas that their dogs reside in.    Cancer is running rampant in so many living creatures and it is unfortunate that we have no way of isolating a genetic marker in canines but there is current research ongoing to do so. We cannot say if it is genetic or environmental, if either of those two. What we do at our house is we do not use pesticides, herbicides or harmful chemicals in and outside our home where our family and our dogs frequent to reduce the possibility of environmental cancers.  As an alternative to chemical cleaning products to clean our home, we use a vapor cleaner, the VX-5000 which gives us chemical free cleaning.   Any paint used in the home and for our whelping boxes are no or low Voc paints such as Sherwin Williams Harmony interior paint.   Ask your potential breeder about how they maintain their property and what chemicals they use both inside and outside their home or kennel. We feed holistic type foods to our dogs which contain no by-products or chemical additives. We do the best we can with our own foods also.   Ask your potential breeder what they feed their dogs, they also should be feeding a quality dog food of which the ingredients do not contain by-products, chemical additives or chemical preservatives.   Avoiding suspected environmental contributors to cancers usually cannot be be accomplished by the breeder without extensive cost to the breeder be it financial or time consuming or both.
With regards to doing our best with projected longevity, unfortunately there's nothing that can truly predict what a puppy's lifespan will be. Golden Retriever life spans are now averaging approximately 10 1/2 years. The oldest litter we have was whelped 4/97 which would make the survivors almost 12. Three of that litter passed away last year. One of them passed away at 7. The sire of that litter lived to just over 10, the dam of that litter lived to just short of 10. That is just one example.
Now… the grandparents of that same litter have one still alive at 13, the others passed at 14, 11 and just short of 10. You can have litter mates where one can pass at 4 and others pass at 10-14 yrs old. There are many factors that may play into longevity. Unfortunately, no breeder can make the prediction that your puppy will live a long healthy life. What a reputable breeder should do is look at the pedigree of the dam and the pedigree of a potential stud dog and do research to find out where the various 'weaknesses' are in that pedigree which would include cancer and longevity.
Ask the breeder of your potential puppy to give you a breakdown of what I just did above with longevity. Ask them for the puppy's 5 generation longevity pedigree which they can give you the link to view from the k9data website.
Whether you've found the serious hobby breeder on the internet or at a dog show, you will want to ask the same questions to each. It is much more personable to ask questions via telephone rather than email with a breeder you have found on the internet. A brief introduction via email is fine, then ask the breeder when it would be convenient for you to call them to ask questions.
Some questions to initially ask about clearances would be:
Do you have current health clearances on your dogs?
Which health clearances do you do?
Where do you get your hip and elbow x-rays done?
Do you have OFA certificates for both hips and elbows?
Where do you get your heart and eye examinations done?
Do you have Board Certified certificates of examination for Heart and Eyes?
THERE IS NO PERFECT DOG
Please understand there is no such thing as a 'perfect dog'.  Breeders should do their best to reduce the risk of genetic defects but there is always a risk when breeding that one can produce such defects.  It is simply impossible to avoid all genetic problems in a breeding program.  If any breeder tells you otherwise, they are not being truthful with you.  A reputable Golden Retriever breeder should be able to produce OFA certificates for Hips and Elbows, Board Certified examination reports for Eyes and Heart.  Accept no excuse for a breeder not having those reports!
Please visit http://www.grca.org/health/health-concerns.html for more information on Golden Retriever Health Issues.
Health Links:
AKC-Canine Health Foundation
http://www.akcchf.org/
American College of Veterinary Dermatology
http://www.acvd.org/
American College of Veterinary Internal Medicine
www.acvim.org
American College Of Veterinary Internal Medicine
http://www.acvim.org/websites/acvim/index.php?p=2
American College of Veterinary Ophthalmologists
American Heartworm Society http://www.heartwormsociety.org/heart.htm
The American Veterinary Medical Association
http://www.avma.org/
The American Veterinary Medical Association Presents Care for Pets
http://www.avma.org/care4pets/
The American College of Veterinary Surgeons
http://www.acvs.org/flash.html
Baker Institute for Animal Health's Companion Animal Health Resource Center
http://bakerinstitute.vet.cornell.edu/cahrc/index.html
Canine Cancer Awareness
http://www.caninecancerawareness.org/default.asp
Canine Epilepsy Network
http://www.canine-epilepsy.net
Canine Epilepsy
http://www.canine-epilepsy.net/basics/basics_index.html
Canine Eye Registration Foundation (CERF)
http://www.vmdb.org/cerf.html
Canine Health Testing Clinic List from CavalierHealth.org:
http://www.cavalierhealth.org/health_clinics.htm
Canine Hip And Elbow Dysplasia Resources:
http://www.workingdogs.com/doc0090.htm
Canine Histiocytosis
http://www.histiocytosis.ucdavis.edu/
Canine Mast Cell Tumors
http://www.kateconnick.com/library/mastcelltumor.html
Canine Renal Disease
http://vetprof.com/clientinfo/KidneyDiseaseInDogs/
Colorado State University College of Veterinary Medicine & Biomedical Science Animal Cancer Center
http://www.csuanimalcancercenter.org/
Dog Safety and Hazards:
http://www.ygrr.org/doginfo/info-safety.html
FDA Center For Veterinary Medicine
http://www.fda.gov/cvm/default.html
GRCA Health & Genetics Committee
http://groups.yahoo.com/group/GRCA_Health_Genetics/    
Golden Retriever Club of America Health Information:
http://www.grca.org/health/index.html
http://www.grca-nrc.org/GAP-Health.htm
Golden Retriever Foundation
http://www.goldenretrieverfoundation.org/
Information about the New Influenza Virus Infecting Dogs
http://www.amcny.org/owners/guidetoamc/DogFlu.htm
http://www.vetmed.ucdavis.edu/msmp/protocols/canine_influenza/civ.htm
Lick Granulomas
http://www.thepetcenter.com/exa/lick.html
Lyme Disease information from Veterinary Partner
http://www.veterinarypartner.com/Content.plx?P=A&A=1588&S=1&SourceID=42
Merck Veterinary Manual
http://www.merckvetmanual.com/mvm/index.jsp
Morris Animal Foundation
http://www.morrisanimalfoundation.org/home.asp
Orthopedic Foundation for Animals
http://www.offa.org/
Thunderstorm Phobia Article:
http://www.ygrr.org/doginfo/behavior-phobia.html#Pharmacological
Tick Tips from the Centers for Disease Control and Prevention
http://www.cdc.gov/ncidod/ticktips2005/
Tick Disease
http://www.vintagegoldens.com/tick.htm
Tick Disease FAQ's
http://www.mirage-samoyeds.com/tick.htm
University of Pennsylvania Hip Improvement Program
http://www.pennhip.org/
Veterinary Ophthalmology
http://www.eyevet.info/
Veterinary Partner
http://www.veterinarypartner.com/
The health links and material on this site are provided for educational and informational purposes only and are not intended to be a substitute for consultation with a veterinarian or other pet health care professional. The opinions presented on the links and in the material on this site at time are personal opinions on issues. No representation is made that any of the information provided on this web site or links from this web site is accurate. Decisions with respect to the specific care and treatment of an animal should always be made with appropriate veterinary advice.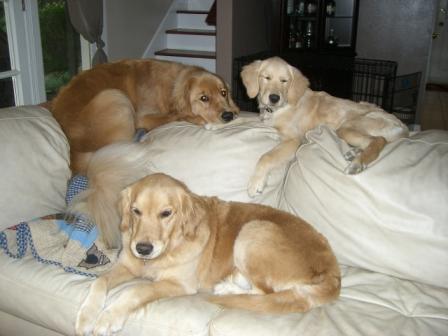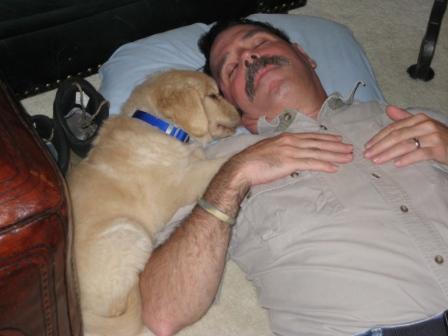 Brooke, Nugget (Cassie's son) & Brooke's daughter Dazzle                  Robert and Ranger nap time
Contact:
Goldenwind Goldens
Ellen & Alan Meyer
Copyright © 2020 Goldenwind Golden Retrievers. Reproduction in whole or part in any form or medium without express written permission of Goldenwind Golden Retrievers is strictly prohibited.
This page is for Health and Education  as a reflection of our dedication to the Golden Retriever Breed